Wissenschaft
Hier finden Sie ausgewählte Informationen zu unseren i.Mune Tests
AKTUELL - Zellulärer Immunstatus und COVID-19
Das Zählen von Immunzellen kann Aufschluss über die Schwere von COVID-19 Krankheitsverläufen geben!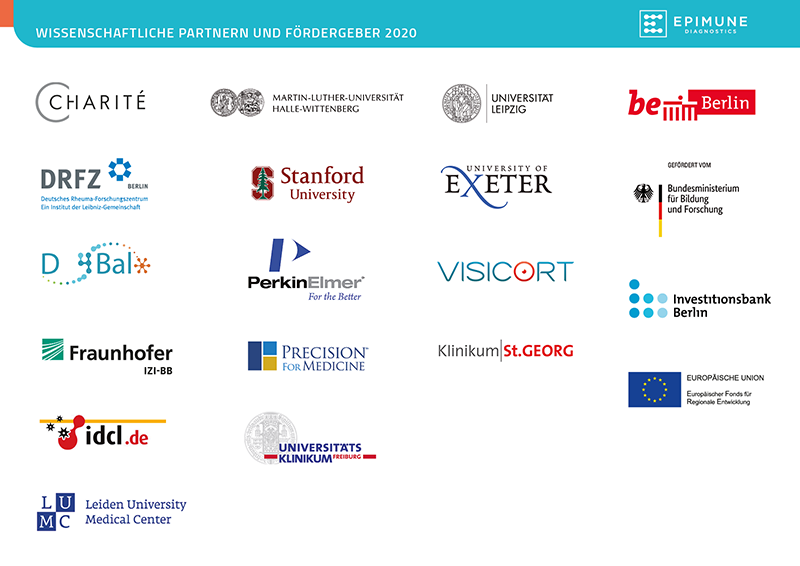 Unsere i.Mune™ Tests wurden in Zusammenarbeit mit führenden Forschungseinrichtungen und mit finanzieller Unterstützung deutscher und europäischer Förderer über mehr als 10 Jahre entwickelt.




Die zugrunde liegende Methode für unsere i.Mune™ Tests wurde in über 50 wissenschaftlichen Publikationen veröffentlicht!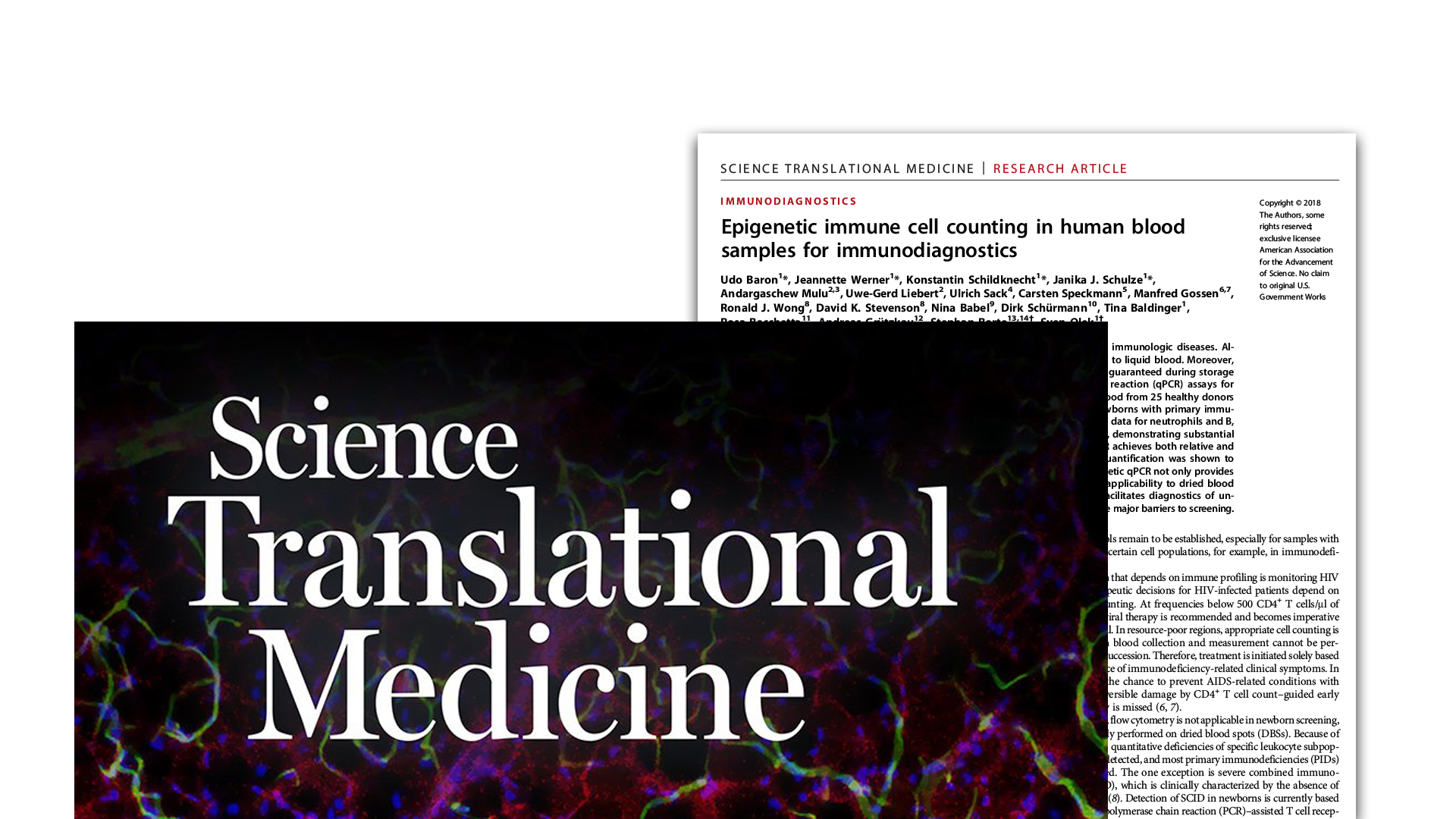 Ausgewählte Publikationen
i.Mune™ Test Methodenentwicklung
Baron U, et al. Epigenetic immune cell counting in human blood samples for immunodiagnostics. Sci Transl Med. 2018 Aug 1;10(452).
Wieczorek G, et al. Quantitative DNA methylation analysis of FOXP3 as a new method for counting regulatory T cells in peripheral blood and solid tissue. Cancer Res. 2009 Jan 15;69(2):599-608.
Baron U, et al. DNA demethylation in the human FOXP3 locus discriminates regulatory T cells from activated FOXP3(+) conventional T cells. Eur J Immunol. 2007 Sep;37(9):2378-89
Forschungsergebnisse mit der i.Mune™ Testmethode
Allergie, Entzündung, Autoimmunität
Blokland SLM, et al. Epigenetically quantified immune cells in salivary glands of Sjögren's syndrome patients: a novel tool that detects robust correlations of T follicular helper cells with immunopathology. Rheumatology (Oxford). 2019 Jul 19.
Singh A, et al. Th17/Treg ratio derived using DNA methylation analysis is associated with the late phase asthmatic response. Allergy Asthma Clin Immunol. 2014 Jun 24;10(1):32.
Herberth G, et al. Lifestyle and Environmental Factors and Their Influence on Newborns Allergy Risk study group. Maternal and cord blood miR-223 expression associates with prenatal tobacco smoke exposure and low regulatory T-cell numbers. J Allergy Clin Immunol. 2014 Feb;133(2):543-50
Onkologie
Barth SD, et al. Treg-Mediated Immune Tolerance and the Risk of Solid Cancers: Findings From EPIC-Heidelberg. J Natl Cancer Inst. 2015 Aug 22;107(11).
Türbachova I, et al. The cellular ratio of immune tolerance (immunoCRIT) is a definite marker for aggressiveness of solid tumors and may explain tumor dissemination patterns. Epigenetics. 2013 Nov;8(11):1226-35.
Sehouli J, et al. Epigenetic quantification of tumor-infiltrating T-lymphocytes. Epigenetics. 2011 Feb;6(2):236-46.
Angeborene Immundefekte
Cepika AM, Sato Y, Liu JM, Uyeda MJ, Bacchetta R, Roncarolo MG. Tregopathies: Monogenic diseases resulting in regulatory T-cell deficiency. J Allergy Clin Immunol. 2018 Dec;142(6):1679-1695.
Barzaghi F, et al. Demethylation analysis of the FOXP3 locus shows quantitative defects of regulatory T cells in IPEX-like syndrome. J Autoimmun. 2012 Feb;38(1):49-58.